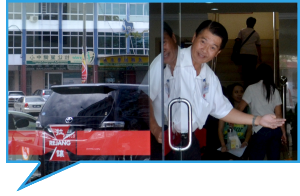 Our Admissions counter is located on the 1st floor, main counter. With the exception of emergency cases, appointments for admission are made during your visit to the Consultant's clinic. On the day of your admission, we will be expecting your arrival so just go straight to the admissions counter once you arrive at the medical centre. Our admissions counter is open 24 hours a day, 365 days a year. Rejang Specialist Hospital understands that the presence of friends and family is important to our patients' well-being. Here's what you need to know about visiting our medical center.
Contents:
Your doctor would have discussed the procedure with you before your admission. You would have then been given a letter from your doctor once a date has been set for the surgery. Once the date for your surgery has been confirmed, you will then be asked to sign a consent form before the operation.  
What to Bring
Malaysian Identity Card (I.C) OR Passport OR Birth Certificate

For Foreigners, please bring your work permit or your native passport
Photocopies of your identity card/passport/birth certificate are not accepted

Past Medical Records
Recent Radiological films and laboratory results (if relevant)
Any Current Medication
Medical Insurance Card (if you have one)
If you are covered by your employer's medical benefits scheme, please bring a:

Letter of guarantee AND
Authorisation Letter/Medical Chit from your company

Toiletries
A change of clothes
For patients being admitted under the labour unit, in addition to the items listed above, if possible please bring:
1 set of baby's clothes
A Blanket/Towel to wrap the baby in
Mother's antenatal Card
Parent's marriage certificate
All rooms are equipped with the following amenities:
Television (all rooms have a private television, except the general ward, where televisions are provided in the common rooms).
Nurse call system/Call bell
Bathroom & toilets
Portable cardiac table
Air conditioner
Bedside locker
Cupboard
Patients are welcome to pay by cash, debit card or credit card. The deposit amount varies depending on the type of treatment. The deposit itself may be made in cash or credit card. Rejang Hospital accepts guarantee letters issued by insurance panels or corporate clients. Please note that an additional deposit will be required when a patient's expenses exceeds the initial deposit paid, or the limit specified in the guarantee letter. If a patient's admission deposit is guaranteed by credit card, the billing clerk may request the card holder for an additional top-up line of credit.
The billing counter is open from :
08:00 am to 06:00 pm Monday to Friday
08:00 am to  05:00 pm on Saturday
08:00 am to 12:00 pm on Sunday
Health Insurance. Medical insurance cards are accepted. Please check with our admissions and payment counter for more information or call 084-323333 ext.25 for more information.
Birth Registration of your baby. You should register your baby with the Sibu Registrar of birth within 14 days of delivery. Our staff will provide you with the necessary documents that will be given to you upon discharge.
For your convenience, a list of nearby hotel accommodations for visitors are provided below:
Garden Hotel Address: 1 Jalan Huo Ping, 96000 Sibu, Sarawak Tel: 084-317888
Paramount Hotel Address: 3, Lorong 9A, Jalan Kampung Datu, 96000 Sibu, Sarawak. Tel: 084-331122 email:

[email protected]

Tanahmas Hotel Address: Lot 277, Block 5, Jalan Kampung Nyabor, 96000 Sibu, Sarawak. Tel: 084-333188 email:

[email protected]

Premier Hotel Address: Sarawak House Compleks, 96000 Sibu, Sarawak. Tel: 084-323222
RH Hotel Address: 1, Jalan Kampung Nyabor, 96000 Sibu, Sarawak. Tel: 084-365888 email:

[email protected]
Ambulance Services. Rejang Specialist Hospital has a 24 hour ambulance services. The fare carged is based upon the distance travelled. Please call us for more information at 084-323333.
Smoking. At Rejang Specialist Hospital, we have a strict no-smoking policy within our establishment. For the comfort and health of our patients and staff, please help us maintain a smoke-free environment.
Wi-Fi Internet Access. Our hospital provides free Wi-Fi for patients and visitors. Please ask at the front desk for wireless access to the internet.